Your Protection is Our Highest Priority
Please call us regarding identity theft or Debit, Credit that have been lost, stolen, damaged, or where there is known or suspected fraud.
DEBIT CARD: Report a lost, stolen or suspected fraud on your PA Central VISA Check or Debit Card: Call 800-472-3272
CREDIT CARD: Report a lost, stolen or suspected fraud on your PA Central VISA Credit Card: Call 866-891-6008 or 571-325-3025
Two-way Text Alerts Protect You From Card Fraud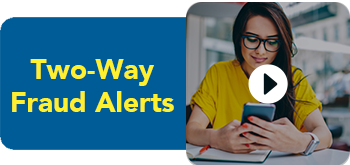 PA Central is committed to maintaining the security of your personal information, and the protection of your accounts. Please review the following information pertaining to some common scams as well as security measures PA Central continues to enforce.

NCUA operates an online Fraud Prevention Center that offers additional information about avoiding frauds and scams on its MyCreditUnion.gov website.

PA Department of Banking and Securities offers a variety of free downloadable PDF brochures on a variety of financial topics including "SCAMS – Protect Yourself, Protect Your Money". Visit their website to view the full list of resources available to you.
PA Dept. of Banking and Securties: https//www.dobs.pa.gov
Tips On How To Protect Yourself:
Never provide your password over the phone or in response to any unsolicited requests. PA Central FCU will never call you to ask you for your password.
Do not reply to suspicious emails or respond by clicking on a link within the email message. PA Central FCU will never ask you to provide any kind of confidential or financial details via an email request.
Never provide your personal information in response to an unsolicited request, whether it is over the phone or through the internet. Emails and internet pages created by phishers may look exactly like the real thing. They may even have a fake padlock icon that is used to denote a secure site. Do not provide any personal or financial information. PA Central FCU will not request information in this manner.
Never provide your account numbers, PINs or other confidential information by phone or e-mail unless you initiated the contact and you're sure know who are speaking with. Remember, PA Central will never contact you and ask for your account number or PIN by phone, e-mail or fax.
Sign up for PA Central's free E-Statements and cancel paper statements. This reduces the amount of your personal information that's documented in print, therefore limiting your exposure to identity theft. If you absolutely must receive paper statements, shred them before discarding.
Sign up for PA Central's free Online Bill Pay to limit your exposure to identity theft.
Shred any documents containing personal and financial information, including pre-screened credit card offers sent in the mail.
Do not carry your social security card in your wallet and do not have your social security number printed on your checks.
Learn about recognizing and responding to fraud and scams:
Is your Apple device up-to-date?
Apple releases security updates to address vulnerabilities in their multiple products. An attacker could exploit some of these vulnerabilities to take control of an affected device.
Please visit Apple's Security page to get the latest Apple software updates for your personal Apple devices.
According to the FTC's new data spotlight, scammers are banking on what you don't know about cryptocurrency — or scammers' tricks. And that could cost you serious money.
Read the full FTC article here: Spotting the FTC's most reported crypto scams
There are many versions of a fake check scam. However, the result is the same. Scammers lure consumers into depositing a cashier's check, money order or other checking instrument from someone that they don't know and wiring or sending money to the scammers.
When the check is discovered to be fraudulent, the damage may already have been done. Once a victim wires or sends funds from such a check, he or she may be responsible for reimbursing the financial institution for that amount. Typically, the financial institution will not cover the financial loss and expects the victim to pay the difference.
If you think you or someone you know was the victim of a fake check scam, consider taking the following steps:
Contact your local law enforcement agency to report the scam.
Contact your state's attorney general. Contact information for each state's attorney general can be found on the National Association of Attorneys General website.
File a complaint with the Federal Trade Commission. Your complaint will be filed into a secure online database, which is used by many local, state, federal and international law enforcement agencies. Complaints from consumers help detect patterns of fraud and abuse.
If you or the victim is an older adult or a person with a disability, contact your local adult protective services agency. You can find local support resources using the online Eldercare Locator or by calling 800-677-1116.
Identity theft occurs when your personal identification information is obtained and used by an imposter to access your financial accounts, open new financial accounts under your name, or otherwise acquire similar benefits using your identity. While PA Central's branch banking, Virtual Branch Online Banking, and and free Mobile App are safe and secure, it's still important to be cautious with your personal information and to protect it from fraudsters, because in today's electronic age, criminals have more means to acquire individuals' personal information than ever before.
Awareness of identity theft and other scams will help you keep your money safe. Read on to learn more about identity theft, scams and the precautions you can take to prevent fraud from occurring.
Recognizing and understanding Synthetic Identity Fraud: While synthetic identity fraud is not a complete takeover of one's identity, critical pieces of your personal information can be used in creating a synthetic identity, such as your Social Security number (SSN). The use of your SSN with another identity can alter your credit score, and it may take time for you to discover this activity. Related to synthetic identity fraud is conventional identity theft, in which someone takes over your existing identity, posing as you, and typically either applies for credit or uses your existing accounts. Both scenarios can have devastating effects on your ability to secure additional credit.
If you believe your personal information has been compromised or hacked, you may want to prevent accounts or loans being opened in your name.  Contact the three credit bureaus to place a credit freeze or fraud alert on your credit report. 
For more information on identity theft, visit https://www.identitytheft.gov/
The Office of the Attorney General has resources available to help you with identity theft www.attorneygeneral.gov
IRS warning: Scammers work year-round — stay vigilant
The Internal Revenue Service reminds taxpayers to protect their personal and financial information throughout the year and watch out for IRS impersonation scams, along with other schemes, that try to trick people out of their hard-earned money. These schemes can involve text message scams, e-mail schemes and phone scams.
Tax return filing season is a prime period for identity thieves to hit people with realistic-looking emails and texts about their tax returns and refunds. Be alert for these common scams so you don't become a victim of identity theft.
Protect your sensitive personal information that can be used to file tax returns and steal refunds. Read more about Tax Scams and Consumer Alerts on the IRS website. https://www.irs.gov/newsroom/tax-scams-consumer-alerts
Seasonal/Holiday Charity and Travel Scams
A legitimate charity will welcome your donation whenever you choose to make it; whereas fraudsters will "pressure" you to make it right then.
Do not send donations in the form of gift cards or wire transfers.
Remember, if it seems to good to be true it probably is. Watch for travel deals that are too good to be true, and know the company or who you are booking your travel through.
Selling stuff online? Here's How to Avoid a Scam
Selling stuff online can be a great way to make some extra cash. Craigslist, Facebook Marketplace, and other sites attract a lot of buyers — and scammers. Protect yourself.
Zelle® and Person to Person Payment Apps
When using Zelle or any other other mobile payment service, please remember these important points to reduce the risk of fraudulent activity:
PA Central FCU will never call you to request information you received via text (SMS) or pressure you to reset your online banking log in password.
Don't trust caller ID; Caller ID may be modified to show a financial institution's name.
Don't provide your online banking log in credentials, one-time password, account number or personal information by email or text or phone call. Using our published phone number, reach out to PA Central FCU to confirm that the request is legitimate.
Don't give information over the phone if you receive a call stating that a transaction is canceled, even if the caller claims to be from your financial institution. Once again, contact PA Central FCU using a published phone number to inquire about the transaction.
Don't click on links in unsolicited emails or texts.
Don't give an unsolicited caller remote access to your computer.