Get the rewards you want with uChoose Rewards
Use your PA Central uChoose Rewards VISA to start earning 2 points for every dollar spent — wherever you shop! Redeem points for the rewards you want most. The choices are endless!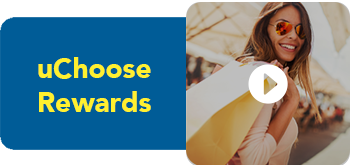 Earn Rewards Faster
Visit uChooseRewards.com for the latest offers to "give your points a boost" and to see the full list of participating retailers. You'll find offers from local restaurants, and auto repair shops, clothing stores as well as online retailers. Once you register your account, you'll also receive exclusive offers by email. Simply activate these offers to earn more points at all your favorite stores.
Redeem Your Points for Millions of Items
Choose from a wide array of merchandise, travel experiences and activities, events, tickets, merchant gift cards, and much more!
uChoose Rewards FAQs
It's a rewards program that earns you points every time you use your PA Central FCU Rewards Credit Card.  Redeem your points for any reward of your choice from a vast online catalog.
New to uChoose Rewards? How to get started.
Visit uChooseRewards.com click the Register link (located under to "New uChoose Rewards") and follow the prompts to create your user ID and password.
How do I earn points/track my points?
You earn 2 points per $1 for all your purchases — whenever you shop!
Earn rewards faster by participating in uChoose Rewards latest offers. A full list of participating retailers like local restaurants, auto repair shops, clothing stores and more can be found in your UChoose Rewards account. You'll receive these exclusive offers by email. Simply activate these offers to earn more points!
We keep track of the points for you — just register at uChooseRewards.com and check your point balance anytime right on the home page.
What can I get when I redeem my points?
It's your choice!  You can choose from millions of options like merchandise, travel experiences, tickets, gift cards and more.  If you choose "cash" a credit will be applied to your credit card account.
Already a uChoose Rewards cardholder and want to check or redeem your points, click here.