Visa® Debit Card — The Ultimate in Convenience!
PA Central Credit Union's Contactless VISA® Debit Card gives you secure, convenient, tap and go purchasing power. You can use it at over 50 Million businesses and ATMs worldwide.
AND…Signature card transactions can earn you money if you have PA Central's High Dividend Checking account. Visit our High Dividend Checking page to learn how to qualify.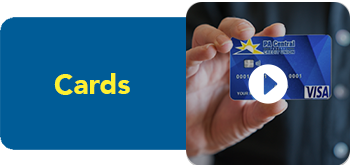 Knowledge Nugget: Understanding the features of a checking account and Debit Card can help you make better financial decisions. ✔️ Click here to for a quick micro-lesson.
Benefits
Contactless – Tapping to pay with your PA Central FCU Visa contactless chip card is a secure, convenient and touch-free way to make everyday purchases. Many of your favorite merchants already accept contactless payments, and if you don't see the Contactless Symbol you can still swipe or insert your contactless chip card, just like any other Visa Card. Visit our Contactless Info Page for more details.
Mobile Wallet Ready! – Now you can use your PA Central Debit Card with mobile wallets like Apple Pay, Google Pay or Samsung Pay in stores, online, or for in-app purchases.
Instant Issue – If you need your card replaced or updated, we can produce a new card for you on the spot. No waiting 7 to 10 business days for your card to arrive in the mail. You can pick up your new card the same day. If you don't live near one of our offices, we will gladly overnight your card and pick up the cost.

Personalize your Card for FREE with your favorite photo.

Card Controls in our Mobile App – Use our Mobile App and access card controls to protect your card with transaction alerts, turn card on/off, set spending limits and more.
Two-Way Text Fraud Protection – fraud alerts sent to your mobile phone regarding unusual purchases. Watch the video.

Earn High Dividends! – Your Debit Card usage qualifies you to earn up to 3.04% APY* through HD Checking. It's automatic, you don't need to enroll but you must meet certain qualifiers each month. Learn more.
Zero Liability & Fraud Protection 24/7
Review our Disclosure of Account Terms for card terms and conditions.
*APY is Annual Percentage Yield. Dividends are paid on checking account balances up to $75,000.00.